Collecting old video games can start out pretty easy. When your collection is small, finding a new addition will be a breeze. But what happens when you can't find a specific title? You may want to look online to find vintage games for sale. One of the most renowned sources for trading retro games is DKOldies because of their friendly staff and easy to use trade in system.

I'd love to give you a huge list of all the best websites out there, but that won't be necessary. You can find everything you need on just two different websites. They both specialize in buying and selling video game oldies for any collection. These websites are your best bet if you are looking to buy and sell video games online for cash. They have a long standing reputation for being quick, fair, and professional.
DKOldies
This website is a family owned business that is from Morgantown, Pennsylvania. The owner of the business is a video game enthusiast that has been collecting video game cartridges his entire life. Once he started selling his old games over the internet, it quickly grew into an online business that has led DKoldies to being one of the top websites for buying physical copies of games.
DKoldies will ship to anywhere in the world.
Reviews
After seeing close to 200 reviews for DKoldies, the overall experience is excellent. All of their products have earned a reputation for being in fantastic condition(and still working, of course!)
Depending on what you order, you may even get the product sent to you with free shipping. In most cases, the products are shipped the same day you buy them.
Delivery time: Most orders arrive within a few days of being shipped.(Even people from across the globe have waited only 4 days for their order to arrive).
If you want proof, you can read the reviews yourself.
Location
DKOldies is solely run over the internet. To do business with them, you need to place an order through their website and they will ship the product to you.
The business is based in Pennsylvania, USA. To give you an idea for how long you might wait for your shipment to arrive, you can use shipment tracking tools to figure out the estimated delivery time from their address to your address.
Sell Your Games
There is a page dedicated to items that are on their "Hot List". Here, you can find a variety of games that they will buy outright. There are tables and charts with items and prices that you can check without having to contact them for a quote.
Page to sell your games to DKoldies
Every item is checked the same day it arrives at their location. Once one of their veteran technicians checks that everything is working as it should, you are sent payment immediately. This is all done on the same day.
For more specific needs, you can email or phone them to discuss what your collection may be worth.
Game Over Video Games
Game over video games started out as a small video games store in Austin, Texas. Their idea was to buy old and used games, clean them up to make the presentable, and sell them in fantastic condition. They have since opened many stores surrounding their flagship store, as well as a few other stores elsewhere.
GameOverVideoGames will only ship to USA and Canada.
Locations
There are currently six store locations:
Dallas, TX
Austin, TX
San Antonio, TX
Houston, TX
Seattle, WA
Tacoma, WA
Sell Your Games
In order to sell your games to GameOverVideoGames, you need to sign up for an account with their website. This is required to use their video games database.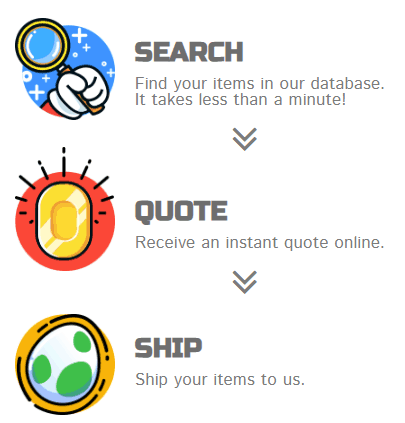 Once you can access the selling interface, you will be sent to a page that allows your search for popular titles that you may have. This will return a list of games that match your search results. You will be able to add all of your games to a list, and then you will be taken to a form to put in your personal information. Once they have your information, they will review it to send you a quote.
Become a Retro Video Games Trade
Think you have what it takes to collect and trade your precious collection? Being able to identify what kind of games are valuable is a hidden talent among seasoned gamers. Becoming a retro game trader is a passion that keeps the kid in you alive, and has the potential to earn you some money on the side.
If you want to play the games you remember, you may not even need the physical copies. Using an emulator will allow you to play classic games like Donkey Kong NES on your computer, without the physical copy. Just note that these are emulations of the original games, and do not always play exactly the same.