Winning the lottery in Bitlife will give you a huge injection of cash. The jackpot can reach very high numbers, it's not uncommon to win tens of millions. However, just like in real life, winning the lottery can be quite a challenge (luckily it's a little easier in Bitlife than in real life). In this post we're going to go over exactly how you can maximize your chances of winning the lottery in Bitlife.
How to buy tickets
In order to win the lottery you'll of course have to participate in it first. Similarly to how the lottery works in real life you'll purchase tickets. A random ticket will win.
In order to participate in the lottery follow these steps:
Go to the "misc" section in the menu
Purchase the tickets
How many tickets can you buy?
You can buy an unlimited amount of tickets. It used to be the case that only the first batch of 10 tickets you buy had a chance to win and many websites still claim this to be true. However, this is no longer the case after an update to the game.
As it stands, every single ticket you buy has a chance of winning, no matter if you buy 10 or 10,000 tickets. This update has drastically increased your chance of winning the lottery.
Getting lucky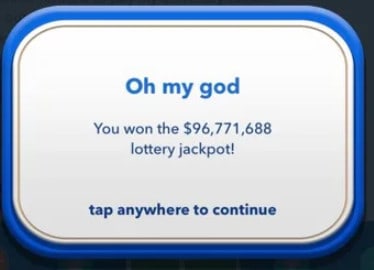 At the end of the day, winning the lottery all comes down to luck. You might've heard rumors of certain tricks (jokes ;)) to allow you to win the lottery. However, in the end it all comes down to luck. More tickets of course means a higher chance of winning but it's never guaranteed.
Some people also think that your karma affects your chances of winning, but this has not been confirmed so it's probably not true.
Is playing the lottery in Bitlife worth it?
I tried finding the odds of winning the lottery, but couldn't find anything. The official percentages of winning haven't been released by the game developer so it's impossible to calculate whether or not participating in the lottery is profitable in Bitlife.
However, there seems to be some consensus on Reddit that your chances of winning the lottery are pretty decent. If you couple this with the often high jackpots and low ticket prices it seems to me that playing the lottery is worth it.
Conclusion
With the recent update to how the lottery works winning is easier than ever. Playing the lottery is most likely worth it, but since official numbers are not available it's up to speculation.
We hope this guide was helpful, and we wish you luck in winning the lottery in Bitlife!
If you have some other tips on winning let us know in the comments. In addition, if you'd like to see guides on other Bitlife topics let us know as well and we'll get on it ASAP.