Flash games may be the height of time-wasting, but there is no denying the fact that they give you that great joy whenever you need something to derive joy from during your free five minutes. These games come a long way, starting from their humble beginnings up to being increasingly complex and now fully-featured on a lot of websites like mostfungames.
These days, whenever you get bored, all you need to do is just to get your smartphone out and play some fun and addictive games on your device. Nevertheless, if you've not installed the game on your smartphone, or you don't have a smartphone and you're still in need of something to keep you busy, you can do that as long as you have an active internet connection. Now you can enjoy flash games on the internet, as long as you want.
One amazing thing about this flash games is the fact that their small size makes it possible for them to run on any system with a browser and a working internet connection. There is no need for a system with a powerful CPU or high-end graphic card.
There are lots of flash games on the internet today, making it difficult to choose your best. Not to worry, in the course of this blog, we'll be giving you lists of great flash games which you should try out first.
Everybody is acquainted with the trusty old plumber Mario. This superstar created by Nintendo has seen a lot of official as well as unofficial spin-offs. The Mario Run is one of the many spin-offs where Mario needs to escape from the hand of his ever-ready nemesis, Bowser. In this game, Mario needs to run as fast as he can while evading all the obstacles before him. The evil Bowser will catch up with you if you slow down, and he might end up eating you or even doing something fast. So as you play, make sure you use to boost to run fast like a racing car.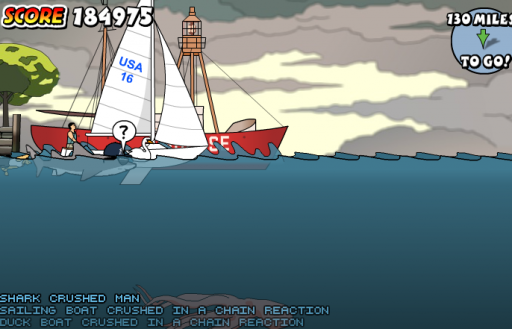 If you love going on a killing spree and you're a fan of rampage, then you just got the perfect game for you "New York Shark". In this game, you'll have to be in control of a shark swimming around a Big Apple. One simple but major objective is for you to eat and destroy anything you see. You can eat the swimmers, their boats, ships, you can even go as far as jumping up above the water to destroy helicopters, planes, etc. in this hilariously but gruesome game, and you might even get the chance to eat Spiderman or even King Kong.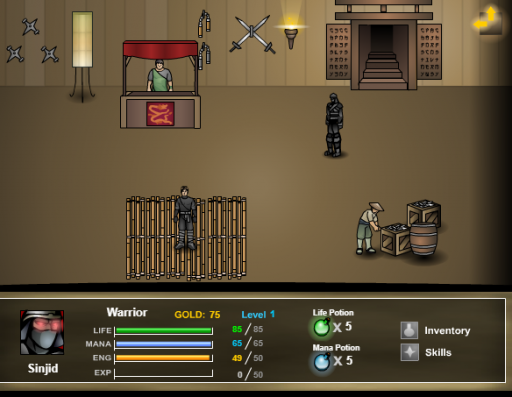 After 20 years of constant training a meditation, you get to face your final test. This is an RPG game that places the player in a shadow temple, where your final training can only be completed after you kill all the men in the Human Gateway. You start the game by selecting a character class: Balanced, Warrior, Spell caster or Shadow Ninja. You can explore the temple as well as interact with different characters which will help in building your experience level and then assist in completing your training. You should pay attention to the energy bar because if it drops, your life and manna drop too. You can only walk out the front door which entails you finished the game after finishing 20 levels of the human portal.
A game can give you a high level of entertainments and fun without being groundbreaking. That what Rogue Soul is here to prove. This amazing game characters a player taking the role of a hooded ninja Rogue Soul. The Rogue soul is a miscreant that goes over the city priding himself as the most allusive and best thief. However, trouble began when a rival bandit the Boring Hood gets himself all the praise of the people. The rage Rogue Soul swore to reclaim his title and pride back and at the same time wreak havoc on this rival.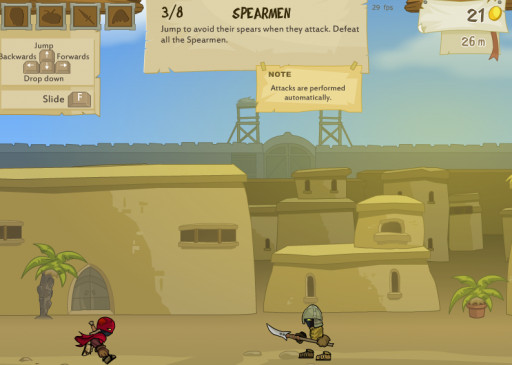 In the course of this game, you will find yourself gliding, running and jumping your way through city streets as you take out militias, go over fatal pits and even give out flowers in place of ability upgrades. The gameplay itself does not make Rogue Soul the knock out, but the flexibility of the mechanics in the game. In the flash world, there are more to the game than just sliding and running, you have to get the treasure chest to win the game.
FROG FRACTIONS
The game frog fraction by Jim Crawford has an easy beginning: a frog, some fruit and a slew of pop-up fractions. The initial goal of the game is to make use of your elastic tongue to protect the fruit from being devoured by butterflies, mosquitoes and other insects in the game. With time, this game becomes more momentous, you see yourself a lot of notable and amazing upgrade, either in the form of a static tongue or getting a more resilient fruit.
What makes this game stand out is its more advanced upgrades which you'll get to find out. You will eventually get to the stage where you war against robotic squids in space and other activities. The game is wildly unpredictable, making it a brain-boosting game. In this game, you'll have to expect the unexpected.
This popular time killer, played by every kid in his or her classroom. This game is an ideal choice for time killing. The tic-tac-toe is easy to understand and simple game. You will be provided with a 3 by 3 grid, with it, you'll have to make either a diagonal or a straight line containing 3 symbols. In other to make this game more fun, it can be played against another friend. Nevertheless, if you're looking to test your skill, you can also play against the computer.
SUPER HOUSE OF DEAD NINJAS
On our list of games, this game "Super House of Dead Ninjas" is the most brutal. Unlike the traditional stealth and sneaking involved in other games, the game starts and ends by ushering the players to descend frantically, down a 350-level tower as a crimson ninja.
In the course of this game, you are always at the mercy of two countdown timers, one of the timers signaling your rage progress, the games staggered boss battles as well as the showdown which will be against the hellish demon that lives in the basement of the tower, while the other signals the appearance of the Grim Reaper.
In this game, you'll notice different towers, but the most interesting part is, No two towers are the same.
SUPER MARIO 63
With the super Mario 63 and all its features, the player can now make their way through the reimagine 2D world of the super Mario 64. The variety of levels in this game is outstanding, comprising of everything, ranging from high peaks to arid deserts. While playing the super Mario 63, you can sprint, triple jump and also ground pound your way to claim the fabled shine spirits as well as set free the iconic Princess Peach.
The game has basic controls, but might be difficult in cases where you have to make use of extra skills such as the flying cap. You can also notice that some memorable elements from the past Mario are present such as the jetpack in the Super Mario Sunshine and other gadgets, all of which makes the game amazing. All the qualities of a standout Mario title are present in this game…Just have fun.
ALTER EGO
When it comes to visual and the terms of content, the Alter Ego is far from being pretty. This flash game which is a remake of an old PC game encapsulates progress through the day to day life. Don't imagine it being like the Sims because it's not. This time instead of the cut little idiots, you find Starks icon with multiple-choice text.
However, the script of this game has been properly crafter and written by a psychologist. It has been made to lead you to a happy old age, or suddenly dying as a toddler, having taken in some bleach found beneath the sink.
COOKIE CLICKER
It is quite difficult to say a thing about this game. This is because, on one side, it is just like a Skinner box that rewards players with no particular thing in return from the crazy clicking. On the other hand, it appears to be a kind of amusing satire that is on the state of contemporary 'idle' gaming.
At first, you have t click to get cookies. The more the click, the more the cookies, the more the cookies, and the more power-ups you can buy with include a cursor that clicks automatically. Eventually, you might get power-ups that help bring cookies from the past and then converting lights into cookies that have giant prisms. No sure end yet. Currently, you get to find 509 billion cookies in a big plastic box up for grabs.
AGE OF WAR
Although you start the Age of War in times of the cavemen and dinosaurs, using clubs and comets as arsenal, you drift slowly into the medieval times and then the modern time and eventually, the time filled with automatic artillery guns and flying tanks. Nevertheless, in spite of the changes in cosmetics as well as the slight gameplay changes in every era, the game keeps its simplistic design.
The main goal of this game is on the ability of the player to protect his or her base and destroy your opponents, which allows players to build different melee and ranged troops added to a list of modern turrets. Just like you'll expect, you gain experience and money through combats as well as the elimination of enemy forces, which comes automatically once you pick the appropriate units. When playing, just don't let time pass you by.
WARFARE 1917
Saying World War II and modern combats are the most notable war-time simulation games is practically safe. However, warfare 1917 goes for a recent date – 1917 precisely. It focuses on a two-part campaign which are the British and the German hostilities. The game is a straightforward strategy game which boasts almost a lot of votes on the different platform including mostfungames.com. This game requires you as the player to make use of armor, infantry as well as fire support to attain a strategic front to defeat your enemy.
Alongside the expected infantry which includes the machine gunners and the rifleman are the expansive siege tanks, artillery, and variety of chemical weapons. As you proceed, the game becomes increasingly difficult, even with the power-ups and ability or experience you gain in the game. This game might appear or seem a little barren and bleak, but that's how the Great War was.
CUBE FIELD
The game allows you to steer a ship in a thousand-cube-filled field. All you have to do is steer clear of the cubes as you advance and this is because touching any of the cube will destroy your ship, meaning you lose. Advance as far as possible without touching any of the cube. As you score increases, the game speed increases – This means you have to be fast with the controls and make sure you avoid all the incoming cubes. Compete for the high score with your friends by scoring points as high as possible.
ESCAPE
Just like the name sounds, you should already know what to see, in this game Escape, you are trapped inside a vertical container that is filled with very big lasers as well as electric fields. The player has to jump from one wall to the other to reach the top and then escape the confinement. In this game, you only have one control, but as easy as it might sound, you have to properly time your jumps to avoid the obstacles in front and then jump higher to safety.
GOOD IMPRESSION
The game "Good Impression" stimulates that panic you get whenever you mum walks up or shows up unannounced, and you seem to have had incidents that involve high explosives, garbage and dirty laundry in your apartment.
Being optimistic, your flat shouldn't be as dirty and scattered as that as this student which is filled with bits of pizza and unwashed clothes and pants. Nevertheless, you are provided with three minutes to put everywhere in order and good shape.
You might be planning on hiding some stuff, it is impossible and this is because the mum in this game give reports cards, and it won't mean well if she fins cold pizza in the washing machine.
BUBBLE SPINNER
The bubble spinner is in variety of ways like rolling a hexagonal Bust-a-Move without the iconic cute dinosaurs. In the series of the Bubble Spinner (Bubble Spinner 2), you take control of the simple pointer which can be found on the top of the screen, and then launch series of colored bubbles on to a larger group or cluster of bubbles that you find rotating in the center. The main aim of this game is for you to detach and clear the cluster bubbles. This can only be done when the bubbles you launch comes in contact with some of the bubbles that are already attached to one of the bubbles or more with identical color. As you play, this starts a chain reaction, additionally, clearing bubbles that are nearby will earn you additional points.
The force of the bubble you launch will spin the center shape upon impact, and then provide you with more opportunities in the process. The bubbles will also in no time stack up anytime you fail to hit the appropriate color. Wining a level is dependent on the fact whether you clear all the bubbles early enough, you lose when you fail to clear the bubble stacks and they get to the middle of the screen. Don't be carried away but the repetitions because it is a deceptive strategy. Make use of the wall as an advantage.
SUPER SANTA KICKER
DOUCHEBAG WORKOUT 2
GAMES BY PENCILKIDS
GAMES BY MOFUNZONE
THE WAITRESS GAME
TARZAN BALL
desc.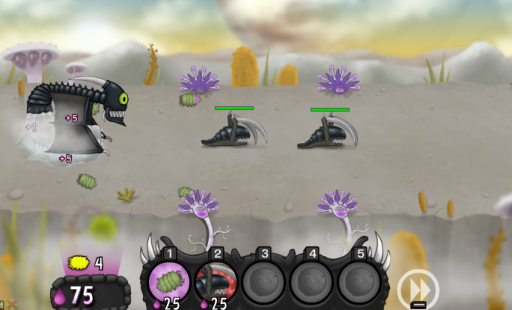 desc